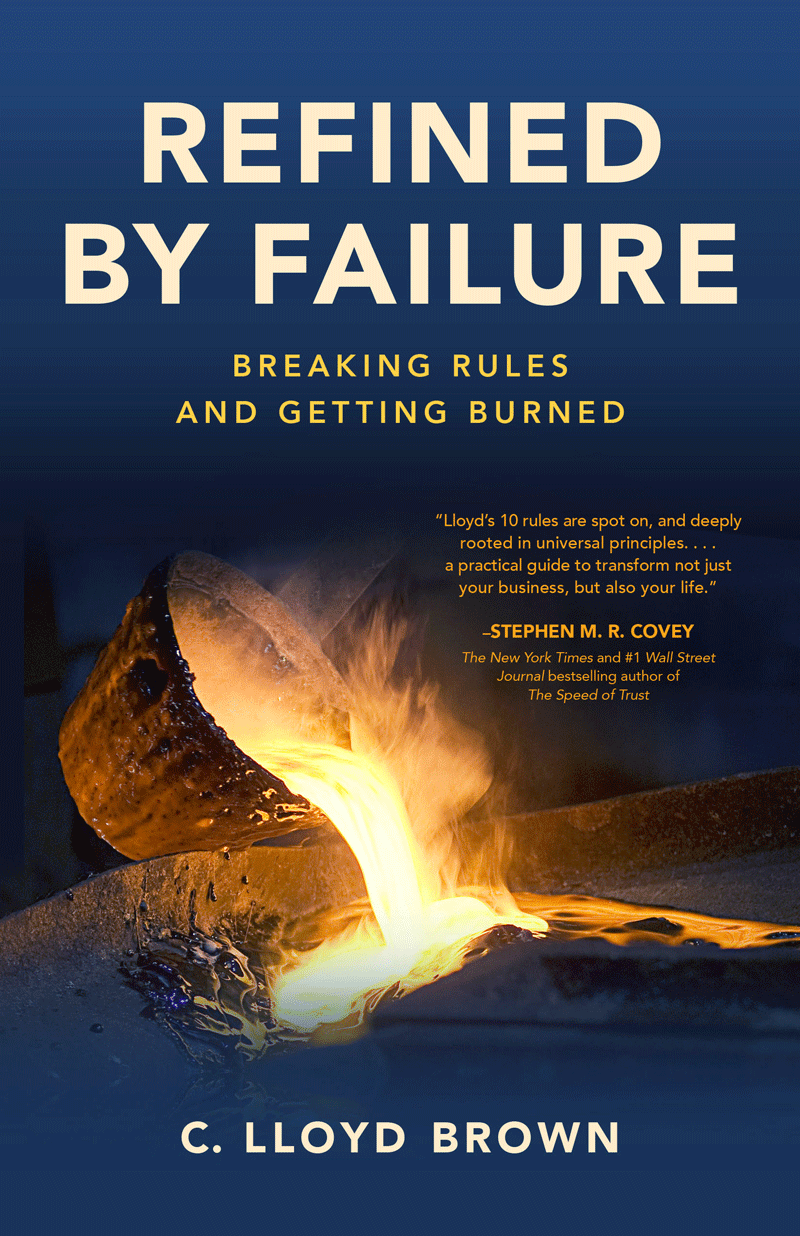 BREAKING THE RULES AND GETTING BURNED
Read our book to learn the 10 rules for success in business and life.


"Unexpectedly powerful and emotional, packed with humble and practical advice and wisdom, this book is a must for any business leader, especially new leaders wanting to ensure they don't make the same mistakes."
Testimonials
What Our Readers Are Saying
The book consistently conveys the message that learning from both our failures and our successes is ultimately how we improve as human beings. The author carefully and thoughtfully lays out his 10 Rules to business and wisdom, and their application to everyday life. I truly enjoyed the author's honesty and willingness to share details, both good and bad, of his personal life and career experiences. Being in the infancy of my career and having a young family, I'm excited to take the knowledge and wisdom shared by the author and apply them to whatever life presents.
Peter Ritchie
As someone who worked with Lloyd as a member of Smart Chemical Services for 5 years of his journey, I can say Lloyd is one of the best leaders I've ever known. His book reveals how one can be that for their own company, having an amazing leader at the helm of your company can mean the difference between success and failure for sure. All failures aren't necessarily failures in all ways, some failures can be major wins, it just depends where you look. I know that working with Lloyd raised my expectations for a leader who cares about their people. The most outstanding quality about Lloyd is his uncanny ability to be concerned for everyone that works for and with him. He's book helps others to achieve the same for themselves and become a leader that anyone would want to work for, and build a company that anyone would want to stay at for the long haul.
Camron Lacy
This is a great read and I highly recommend it to all who want to learn and grow as a leader. The 10 rules are a must not only for business, but also for life. It is hard to admit when we fail, but it is powerful when we share the lessons with others so they can learn from our failures. I appreciate the author's candor, rules, engaging stories, and the blend between his personal life lessons and what he has learned as the CEO of his own company. We don't have to be defined by our failures, but we can choose to be refined to grow and learn from our mistakes. I hope you buy and enjoy this book today!
Marcus Wilson
Leading an organization is no small task. It's a costly endeavor as Lloyd explains so candidly. I read this book on a two-hour flight and it is one that I will rinse and repeat. If you are growing a business or if you are an aspiring entrepreneur, this book is one that you can relate to and apply immediately. These rules are universal truths that must be applied in all aspects of life. Business is a journey of faith. I'm pleased that Lloyd shared this story with us. It will impact many lives!
David D Terry
Refined by Failure
Refined by Failure
Refined by Failure
Refined by Failure
Refined by Failure
Refined by Failure
Refined by Failure
Most of us make mistakes everyday. For a leader it is no different. In this inspirational and motivating book, Lloyd Brown shares an honest and vulnerable account of his life to help others grow.

It is hard to admit when we fail, but it is powerful when we share the lessons with others so they can learn from our failures.

Read Refined by Failure: Breaking the Rules and Getting Burned today!
What happens when you place extreme risk taking over profitability?
Learn about the key rules for business and life in this engaging account of learning through failure.
For Business Leaders
This book provides practical and valuable rules for business leadership.
Scale Your Team and Company
Effective leadership starts with the ability to get vulnerable with one's results.
Accelerate Revenue
Grow your company faster by learning from someone who has been there done that.
Achieve the Results You Want
Generate the success you want without sacrificing your family and relationships.
Build More Effective Boundaries
Setting boundaries is one of the critical aspects of effective leadership.
Learn From an Expert
Lloyd clearly lays out the rules he established for the company and candidly confesses how violating them ultimately led to his downfall.
REFINED BY FAILURE: BREAKING THE RULES AND GETTING BURNED
Signup to Get a Free PDF Copy of the Refined by Failure Book